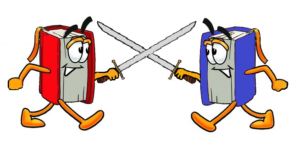 This will be the fourth year our 3rd-6th grade students will participate in the reading challenge called the Battle of the Books. Classroom teachers will group their students into teams of 4-5 students.  These groups will participate in competitions against other teams answering questions from the books on their book list. The more books they read, the higher their chances are of winning the Battle of the Books tournament that will be taking place in March.

The school will purchase 10 copies of each and they will be available for check out.  For each book read, students will fill out a bookmark ticket, turn it into our library and receive a small prize/treat.  We will have periodic drawings for fun prizes.  The winning Battle of the Book teams and students who read the most books will also earn a fun activity in March or April.  Battle winners will also receive a special prize.
Battle of Books Clarification: Students who read all 20 books on their list for Battle of the Books by the due date will be invited to a special ice cream party. We will no longer do drawings after this date. However, if kids still want to read books, earn tags, and even get the large bead for 20 books read, they can do this up to the end of the year. We will have a treat for these kids. Make sure to get a Battle of the Books bookmark and have your parents sign off saying you've read the book. Once you turn that in to the library, they will track it and you can earn a bead for each book you read!
List 3-4 Grades 2021-2022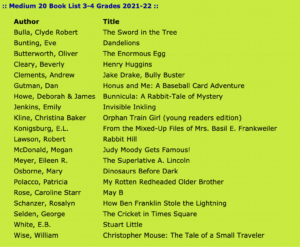 List 5-6 Grades 2021-2022